It's a lazy Sunday following a big rain and windstorm last night. It was so loud! I'm surprised that there isn't more debris around the neighbourhood. Most of the snow is gone, which makes things look kind of blah. I'll take advantage of the thaw by wearing some skirts to work this week... and I will try my best to get a work outfit blog post. I never want to drag out the tripod after a long day, but I need to start.
Reading: I'm in the middle of reading a book on my Kobo - Twenty-Six by Leo McKay Jr.It's set in Nova Scotia and was inspired in part by the Westray mine explosion of 1992. I was thirteen at the time of the disaster, so I still remember the events, but they have a teenage spin on them.
Writing: I've been working on our wedding website on theknot.com (285 days to go!)
Listening: To constant football commentators (why do they have to yell all the time?) Is it almost time for the Superbowl? Red Hot Chili Peppers are playing half-time so I will be doubly excited for end of the season and listening to my favorite band.
Thinking: I'm going to have a hard time finding wedding shoes. I need something pretty but not boring, with kitten heels. Please, Nine West, create me something.
Smelling: Glitter and Gold tea from DAVIDsTEA. It's my favorite lately.
Wishing
: We had a housekeeper. Not looking forward to cleaning today. My weekly big clean somehow got switched from Thursdays to Sundays over the holidays and I need to switch it back.
Wearing
: Honestly. Pyjamas. Joe Fresh to be exact.
Loving: My Vitamin C products from The Body Shop. I don't think my face has ever been softer. The microdermabrasion is not exactly comfortable but I love the results! The skin boost is amazing as a primer.
Wanting: A good few hours at Forever 21. Just might be happening this week! I love the look of this long white sweater to wear with leggings.
Needing: To get back into a real workout routine. Just as soon as all the Christmas decorations get removed from the gym room. T25 it is!
Watching:
Too much TV lately! I'm watching the second to last season of Desperate Housewives on Netflix and Six Feet Under (re-watching Season One).
Feeling:Kind of blah today. I had a migraine last night and still feeling the aftereffects.
Clicking: Blogs, theknot.com, and wedding invite sites. We're still trying to decide if we're going to do paper or e-invites. I think we'll get at least a few paper invites done for keepsakes.
I'm linked up today, click below to see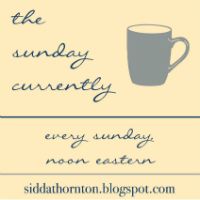 That's what's new with me lately! Thanks for reading!
XOXO
Glitterary Girl