Reading
: Inferno by Dan Brown. This is a book I borrowed from a co-worker. It's been some time since I've read a Dan Brown book, and I'm enjoying this one. I always want to read his novels in the illustrated version though as there are so many references to art. I need to see the pieces and symbols he's writing about to fully appreciate it.
Writing
: NOTHING WORK-RELATED FOR AN ENTIRE WEEK AS I"M ON VACATION! YAHOO!
Listening
: The Olympics are on in the background. Did anyone see the awkward Daft Punk rendition during the opening ceremonies? Love that song, but really not suited for the venue... or the singers.
Russia's Police Choir Covers Daft Punk at Sochi Olympics Opening Ceremonies | Billboard
Thinking
: How nice it will be to catch up with lots of friends over the next few days.
Smelling
: I just blew out my hot buttered rum BBW candle. Thankfully, not able to detect much of the gasoline/rubber smell from the gym mats that were in our house the other day. They have found a new place to live for the next little while until they de-gas.
Wishing
: For the motivation to get the wedding website and invites done.
Hoping
: The people at Subaru can figure out why my car keeps icing up on the inside. It's not really that fun to pull over at Old Navy on the way to work to de-ice the interior windows (the store isn't open at that time...)
Wearing
: A girly outfit as I was at a baby shower today. Club Monaco top, 3.1 Phillip Lim for Target skirt.
Loving
: That I was only one of five ladies scouring the racks this morning at Target for Peter Pilotto stuff. Target collaborations are SO fun. Can't wait to check out the selection in Bedford tomorrow.
Wanting
: Soooo badly... rosegold Chucks. For wedding shoes.
Needing
: To pick a paint color for my closet-room. Anyone have recommendations for a nice turquoise color?
Feeling
: Unmotivated to work out... as you'd expect for a Sunday night! I can do it!! As Shaun T keeps telling me, "It's only 25 minutes of your day..."
I'm linked up for The Sunday Currently over at siddathornton today.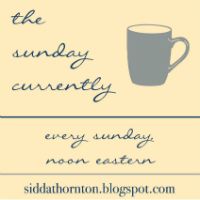 I hope your Sunday was wonderful!

XOXO
Glitterary Girl