I knew I shouldn't have gotten rid of that kilt... hmmm.... maybe it's still in an old Halloween costume bag... Mom?
Plaid is everywhere again. At first (like in September) I thought plaid was going to mostly make an appearance in accessories - but no - it's all over the place in pants, coats, shirts, you name it! I've always had a thing for plaid and I'm not sure if there's a time when there hasn't been at least one plaid shirt taking up residence in my closet (I'm Canadian, you know).
This shirt was a Winners find in Vancouver. When I moved there in April 2011, I mistakenly thought the presence of cherry blossoms meant heat (not so much) and I didn't pack much in the way of warm clothes. Thanks goodness I lived around the corner from one of the best shopping districts in Canada.
Details
Vest: Zara Kids
Shirt: Vans via Winners
Skirt: Club Monaco
Boots: Steve Madden
Leggings: Gift
Necklace: Bondi Markets, Australia
These are my first photos with my DSLR, and as you can see, I have much to learn. Like, how to get the camera to focus on me instead of what's behind me (hi, neighbours). If you're reading this and have some advice, please help, or I may have to make a scarecrow version of myself as a stand-in.
This fella lives with us. Isn't he handsome?
Stop by and see what the other bloggers have come up with for Friday's Fancies. Pretty in Plaid is the theme!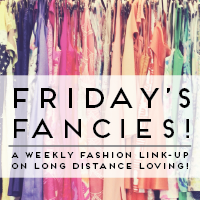 I'm hosting a Stella & Dot trunk party tonight! I'll be sure to blog about it soon.
Have a wonderful weekend!
XOXO
Glitterary Girl