I trust these heels. They once got me from The Lower Deck to Public Gardens (that's a long walk for those who don't know Halifax) without breaking my ankles or getting blisters. They are the shoes I gravitate towards for a night out!
My phone's camera doesn't like low light situations...

Details
Top and Pants: H&M
Jacket: Danier
Earrings and bracelets: Gifts
Shoes: Nine West (four years old and still going strong!)
Friday's Fancies this week is all about city style. If I were truly representing the roots of Halifax, I would have chosen a tartan print, but I donated my kilt a few years back.
See how the other bloggers represented their city style!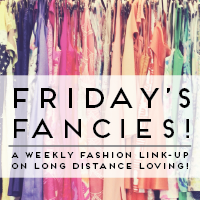 Have a great weekend!
XOXO
Glitterary Girl