There are average shopping days when you might be able to pull off wearing cute heeled boots, and then there are days like Black Friday where you must dress for comfort at all costs. This week's Friday's Fancies challenge was to come up with an outfit to withstand the chaos that this shopping day inevitably brings.
Black Friday started as an American idea - massive sales the day after Thanksgiving to get everyone going with their Christmas shopping. The custom has trickled into Canada over the past few years, in hopes that big sales north of the border would keep Canadians from traveling out of country to shop.
Details
Sweatshirt: Old Navy
Pants: Uniqlo
Scarf: American Apparel
Bag: Coach
Boots: Call it Spring
Earrings: Gift
I hate wearing a jacket while shopping (too bulky) so I chose a sweatshirt and cozy circle scarf which should keep a girl warm enough to leave the coat in the car (provided it is an indoor mall shopping experience). The crossbody bag means hand-free access to grab-worthy finds. Flat boots keep the feet happier than heels. Jewelry was kept to a minimum in case the sales were good enough to require quick changing - in addition to gifts, Black Friday is also a great time to snag the items on your list that can't wait for Santa, like holiday dresses and sparkly tops.
Stop by to see what the other bloggers chose for their shopping attire!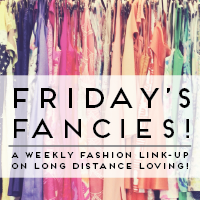 Good luck next week for those of you who will be heading out to brave the Black Friday crowds. Here in Halifax, the Big Black Bow event will be happening at Halifax Shopping Center! I know where I'll be at lunchtime...
XOXO
Glitterary Girl