A big congrats goes out to my blog-friend-I've-never-met (I have a lot of those...) Alison on the 150th edition of My Friday's Fancies. I love checking out her blog every Friday to see how other bloggers style the theme of the week. We were to put on our party best this week so I decided to share what I wore to the last hurrah of a very active wedding season.
Details
Dress: Gap Factory Store
Cardigan and shoes: Le Chateau
Clutch: Coach
Bracelets: Forever 21
I have worn this cardigan so many times to weddings. It's my staple. Congrats to the lovely couple - Leanne and Jason! The wedding was in Mabou, Cape Breton, Nova Scotia and the scenery was beautiful although he weather was a tad bit breezy!
Make sure to check out the other bloggers' looks!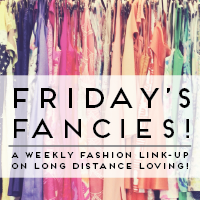 XOXO
Glitterary Girl