It's almost Halloween! I wish I had more spirit in me to get costumed out this year, but the summer and fall have been so busy that I didn't have the energy to focus on dressing up. I'll have to live vicariously through others and check out the festivities on Facebook and blogs.
Friday's Fancies this week was all about creating a Halloween outfit. I chose to go with mostly grey and a pop of orange. Continuing with my skull obsession of late - check out the cute studs!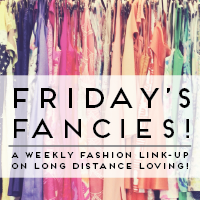 Do you have party plans for Halloween?
XOXO
Glitterary Girl