Me and football have a bit of a rocky relationship. This time of year, I lose my fiance to the television. Football seems to be a constant presence on the weekends... at a ear-ringing volume. The only good thing about it is there are sometimes donairs, pizza, and party mix involved.
R's favorite team is the 49ers. We spent much of our time in San Francisco last year browsing various sports stores. Seriously, how can he ever complain I take too long shopping when it takes him about an hour to choose between three basic t-shirts? I could try on half of the Zara store in that time.
Rag & Bone
red sweat shirt
, $135 / J Brand
super skinny jeans
, $190 / adidas
sneaker wedge shoes
/ Tory Burch
black shawl
/ Michael Kors
rock n roll jewelry
/ People Tree
glove
/ Bonne Bell
lip gloss
I couldn't resist the penguin mittens. They have nothing to do with the theme... they were just darn cute.
I'm linked with longdistanceloving today for a (you guessed it!) football post. Click below to check out the other bloggers' tailgate party looks.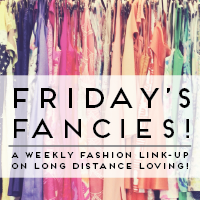 Happy Weekend!
XOXO
Glitterary Girl