When I heard what the theme was for My Friday's Fancies this week, I was super excited to browse the web for fun fall finds. These are wishes - not realistic.I should wish for a lottery win as I've already went over budget with my fall clothing and (oh hey!) I've booked a trip to Toronto for next month. I'm sure I won't go near any stores though. Ok, maybe just Yorkdale.
TIBI dress
/
Blazer
/
3.1 Phillip Lim ankle booties
/ Kate Spade
black statement necklace
/ Michael Kors
oversized gold watch
/ Club Monaco
grey brim hat
I try this hat on about once a week in Club Monaco. It is too cute. Never mind that I already have a hat almost identical to it and therefore have NO NEED for it.
The black boots, I do need. My only black boots are tall ones and I think I'd wear short ones to work all the time, where my tall ones are more evening appropriate.
I'm bored of my current brown leather jacket... maybe I should consign it and use the profit for a new one.
I have a silver watch - gold would be nice to have too.
Long-sleeved dresses are classy and cozy at the same time. I love the color-blocking on this one and blue and black together is so on trend this season.
The black necklace is a jewelry hole in my life. I wear a lot of things that I could style with a simple black bauble like this.
Take a peek on what the other bloggers are lusting for this season by clicking on the button below.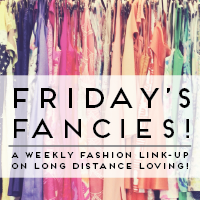 What's on your fall wish list?
XOXO
Glitterary Girl